The 2nd English Course is a video-based English course for Intermediate students. You will learn and practice English vocabulary, reading, writing, grammar, listening comprehension and life skills while you watch the stories of the different characters meeting the challenges of family, work and community life in the U.S.
There are five different stories about these important topics:
Workers and the Workplace
Housing and Family Life
Taxes, Law, and Community Issues
Parenting and Workplace Roles
Education and Information
Each of the 5 stories has 4 units or episodes. There are a total of 20 units in the 2nd English Course. After you have completed all the activities in one unit, you will take a test to check your knowledge, so you will know if you need more practice or if you're ready to move on to the next unit.
Engaging Video Stories
The video stories in the USA Learns 2nd English Course are engaging stories about people with problems we all have – needing a better job, having problems with a teenage child, looking for a new place to live, dealing with issues at work, etc. You will quickly feel like the characters in the 5 video stories could be your friends, coworkers, or neighbors. You might feel excited or worried for them, or you might feel shocked or amused by their actions and situations. You might want to tell them, "Don't do that!"
Being involved in the story is a great motivator for learning English. You will WANT to understand what people are saying in each scene. You may even want to tell them what to do. The 2nd English Course video stories makes language learning seem natural and fun. Learning the language with video stories helps you learn conversational language and body language like facial expressions that is such an important part of communication.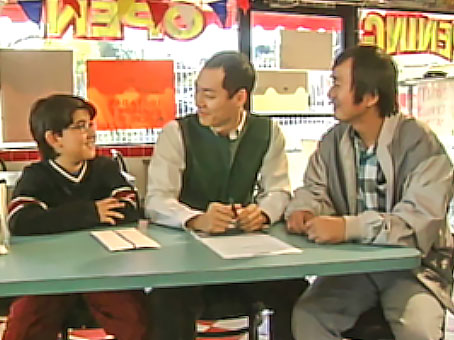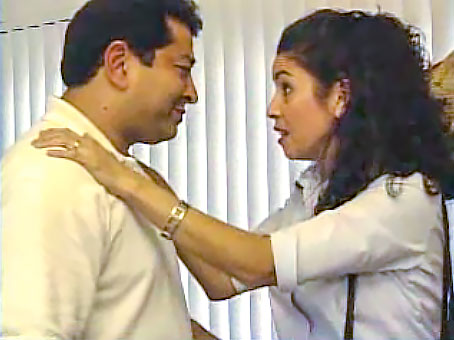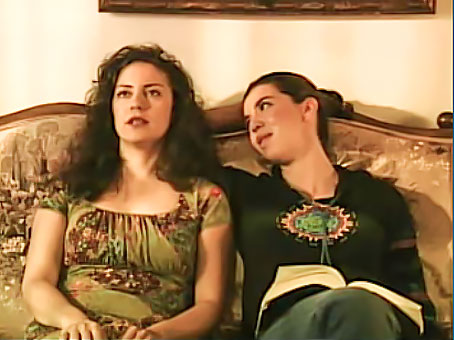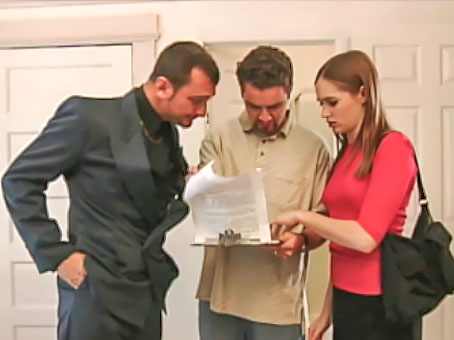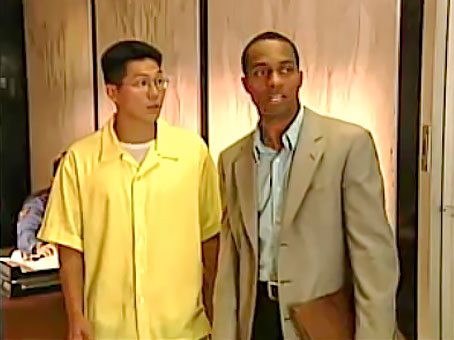 Language Practice Activities in 2nd English Course
Each of the 20 episodes is about 30 minutes long, but you will see the episodes in shorter segments. This allows you to learn and practice the language of each section of the film. We know you want to find out what happens in the story, but don't forget your goal is to improve your English. There are many practice activities in between each of the video segments.
Your Guide in 2nd English Course
Your very special guide throughout all of the stories of the 2nd English Course is the Wizard. He will introduce you to characters and tell you about the learning goals and grammar for each unit. He has special powers to start and stop the action, especially when a character needs to make an important decision. He gives the characters choices and second chances. He also stops the action to teach you the grammar lesson and review scenes when characters have used the grammar. Most importantly he makes learning fun! He can pop up in unusual places in the stories and look different, so watch for him!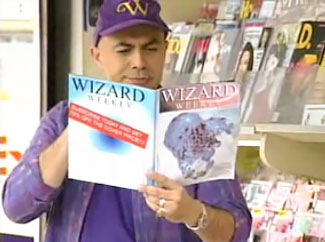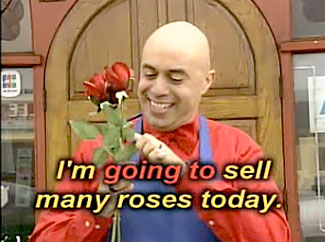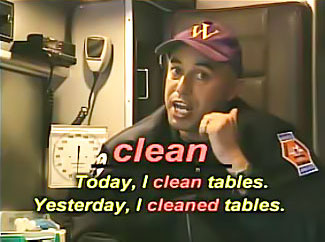 In the 2nd English Course, the Wizard will help you learn grammar for communication so that you will be able to:
say what you want and like
introduce yourself
talk about future plans
make promises and predictions
give and respond to commands
disagree
describe past events
respond to a request
answer questions
convince others
make suggestions
ask for and give advice
give commands
give and accept thanks
say your needs and obligations
make suggestions
refuse
make predictions
offer help
ask for clarification
summarize conversations
and more!
REGISTER NOW to start your free English course with USA Learns!
What video stories will you watch in each unit?
Here is a short description of the video story for each unit of the 2nd English Course:
Workers and the Workplace
Unit 1: Job and Career Advancement
Alejandro Cordero is an unhappy busboy who works for a difficult and unfair restaurant owner. After experiencing the disappointment of missing a promotion, he must decide whether he should apply for the position of assistant manager in another restaurant and risk the possibility of another disappointment.
Unit 2: On the Job Health and Safety Before leaving his old job, Alejandro warns his boss of some potentially hazardous conditions at work. His boss ignores and tries to intimidate Alejandro, an action which may lead to difficulties for everyone.
Unit 3: Support Systems for Injured Workers Alejandro suffers an accident at work and learns about Worker's Compensation. Since his boss refuses to pay, he must appear before a judge who will decide his case. Alejandro must tell the whole truth before the judge can award him his compensation.
Unit 4: Supervisors and Teamwork
As the new assistant manager, Alejandro must be able to effectively supervise other employees, which is not always easy. He must also learn to ask for advice and recognize the benefits of everyone working as a team.
Housing and Family Life
Unit 5: Managing Family Life
A young couple from Russia, the Pushkins, looks for an affordable apartment in the same neighborhood where they work. The apartment needs to fulfill certain requirements and standards. One landlord tries to intimidate them into signing a lease before they have had time to completely read through it. Then they find an apartment they like, but the manager refuses to rent to them because they have a child.
Unit 6: Using Information Services
After the Pushkins find the ideal apartment, they must take legal action to force the manager to rent to them. First, however, they must access resources in the local library, contact government agencies, and meet with helpful officials.
Unit 7: Accessing Services
In their new apartment, the Pushkins must have all the services installed, including the telephone. They set up an appointment time for a technician to install the phone, but are unable or prevented from keeping the appointment. Attempts to make a new appointment prove extremely frustrating and time-consuming.
Unit 8: Men's Changing Roles
Karina Pushkin is unhappy that she must do all of the housework since she works outside of the home. Her husband Victor believes there are certain male and female jobs around the house. In the end, he learns to share the responsibilities around the home.
Taxes, Law and Community Issues
Unit 9: Dealing with Taxes
Tshombe, an African immigrant, operates a sidewalk lemonade stand on a busy street. He seeks advice from a tax consultant after receiving notification from the IRS about the tax form he had filed. He must make a choice between declaring his correct income or lying about it to avoid paying extra taxes.
Unit 10: Dealing with the Law
Tshombe needs to have his lemonade stand open longer than his municipal permit allows in order to make more money for the extra taxes that he owes. When he refuses to close down at 5:00 p.m., he gets into a serious argument with a police officer.
Unit 11: Discussing Community Issues
After meeting with the police and a city official, Tshombe and Joe try to organize their fellow street vendors to defend their rights. A shop owner wants them to leave her street and has arranged for a public hearing to be held.
Unit 12: Civic Participation
Tshombe appears at a court hearing to defend the street vendors' rights to sell their merchandise. He must produce documented evidence to support his case.
Parenting and Workplace Roles
Unit 13: Parenting in the United States
Marta, a single working mother, feels that her teenage daughter, Viviana, is becoming disrespectful and wants to send her to live with relatives in Mexico. Viviana, on the other hand, feels that her mother does not understand her and will not listen to her problems.
Unit 14: Women's Changing Roles
Benjamin, Marta's ex-husband, loses his job and faces an eviction from his apartment. He wants to move in with Marta and Viviana and promises to do the cleaning, cooking, shopping, and all household duties while Marta is at work.
Unit 15: Women's Work Issues
Marta struggles with sexual harassment from her supervisor who will drop charges, which he has falsely placed against her, if she consents to go out on a date with him.
Unit 16: Women in Nontraditional Roles
Marta, a single, working mother of a teenaged daughter, is offered the position of manager at work. Shortly after she accepts the new job, Marta must face the possibility of firing Dora, her best friend. Dora has not been able to keep up production ever since the new written instructions have been circulated, but refuses to admit that she is illiterate.
Education and Information
Unit 17: Accessing Learning Opportunities
Tony Park, recently arrived from Korea, has inherited his father's sandwich shop. Even though he has a professional credential in his home country, he has limited skills in English. His inability to communicate with customers begins to hurt his business. Complicating the situation, a gangster wants to buy the sandwich shop property for real estate investment purposes and begins creating problems for Tony.
Unit 18: Involvement in Children's Education
Tony becomes interested in a young woman and must decide if it is more important to keep a date with her or talk to his son's teacher about his son's problems.
Unit 19: Transferring Professional Degrees
The sandwich shop is robbed and Tony is forced to reevaluate what he wants to do in life. In order to be certified as a pharmacist in the U.S., he must take the TOEFL exam. This is a difficult challenge for him and he must decide whether he wants to take on this challenge, or give up the idea of becoming certified in the U.S.
Unit 20: Learning to Learn
Tony and his uncle are intimidated by a gangster to sell their sandwich shop to him. Just before signing their business over to him, Uncle Bill realizes this person has robbed the shop. In cooperation with the police, they plan to catch the robbers. Tony, however, must first learn about cameras and technology in order to set up a surveillance system.
USA Learns offers three English courses, which teach beginning and intermediate English as a second language. We invite you to learn more about all three English courses!
REGISTER NOW to start your free English course with USA Learns!
Advertisement